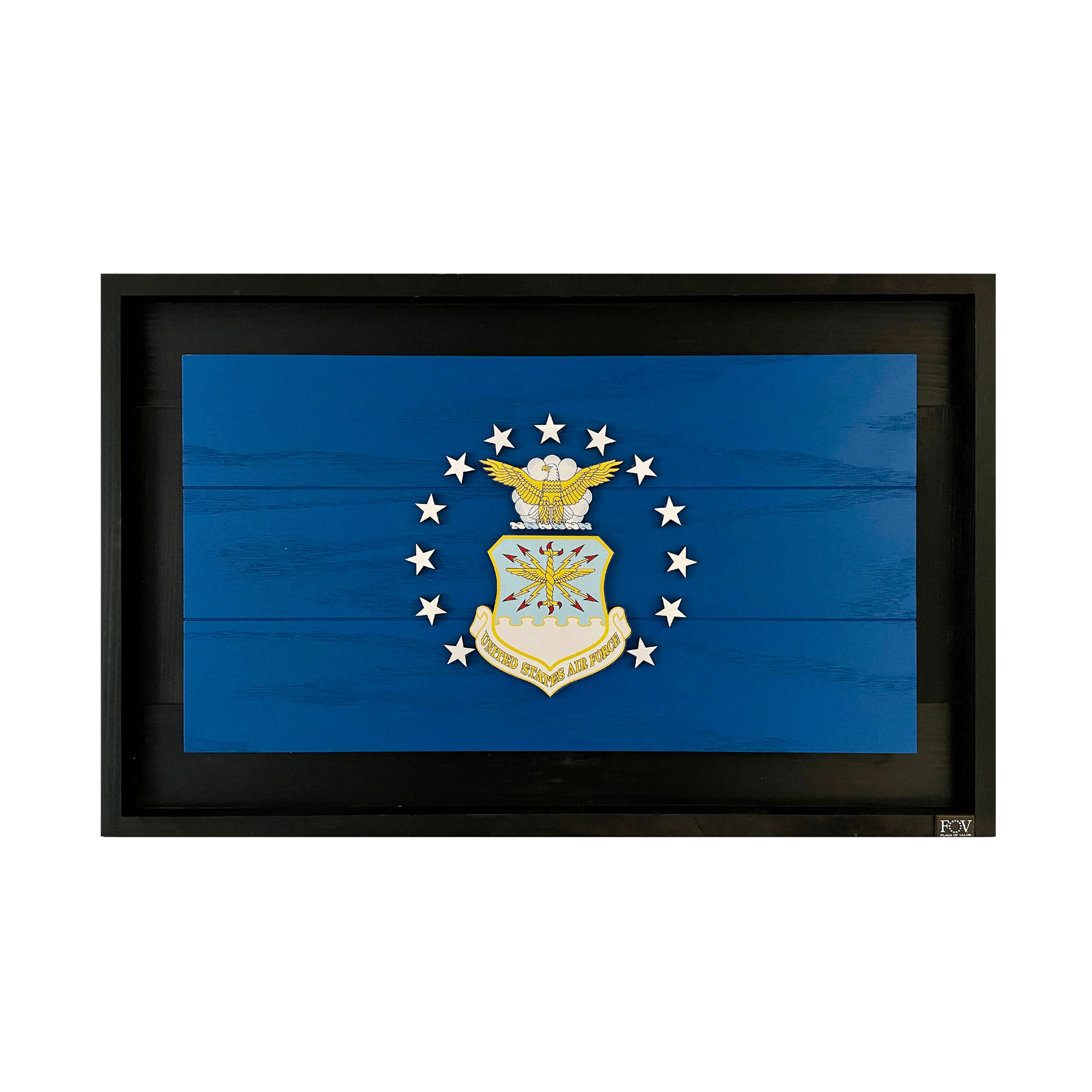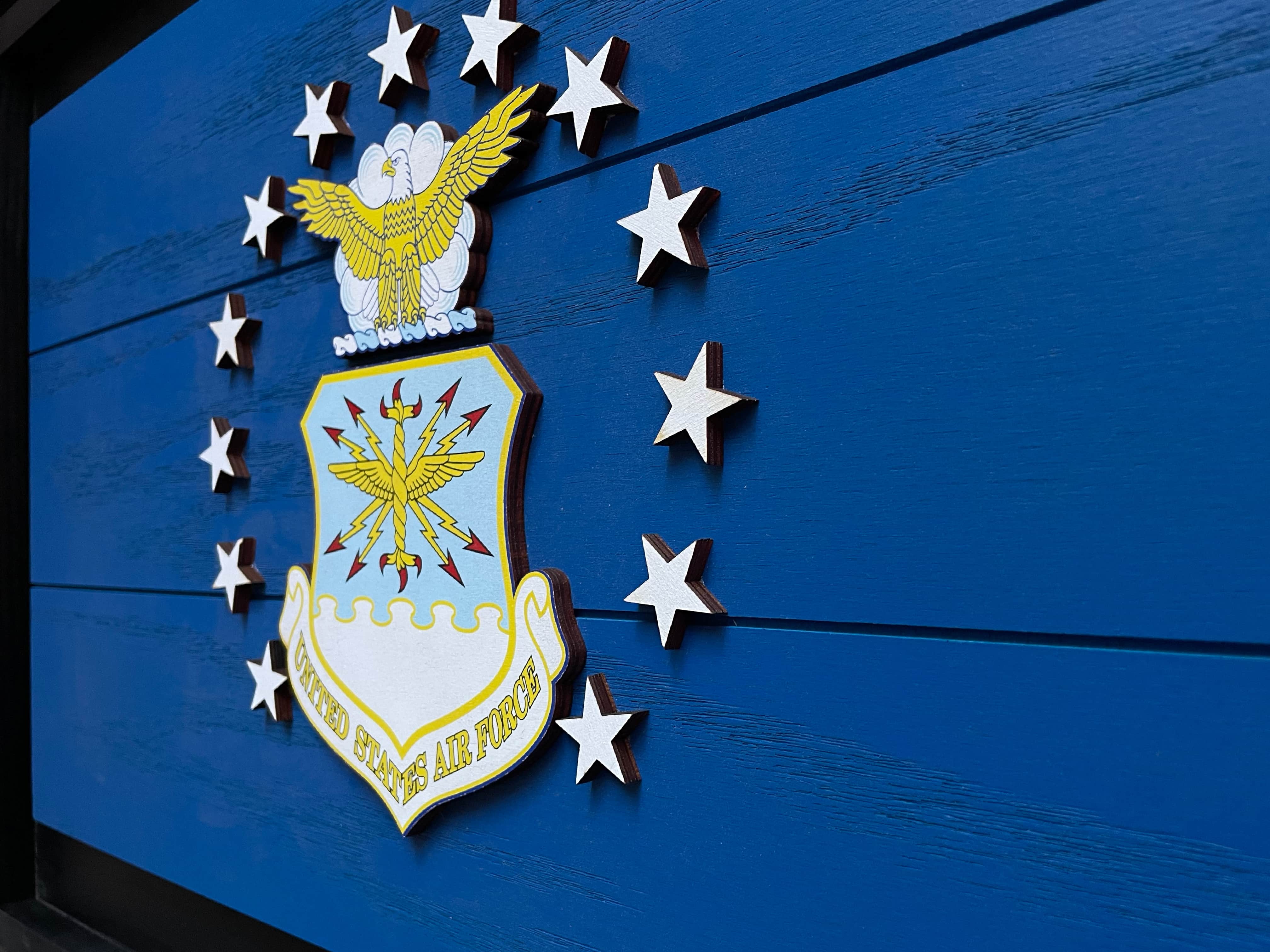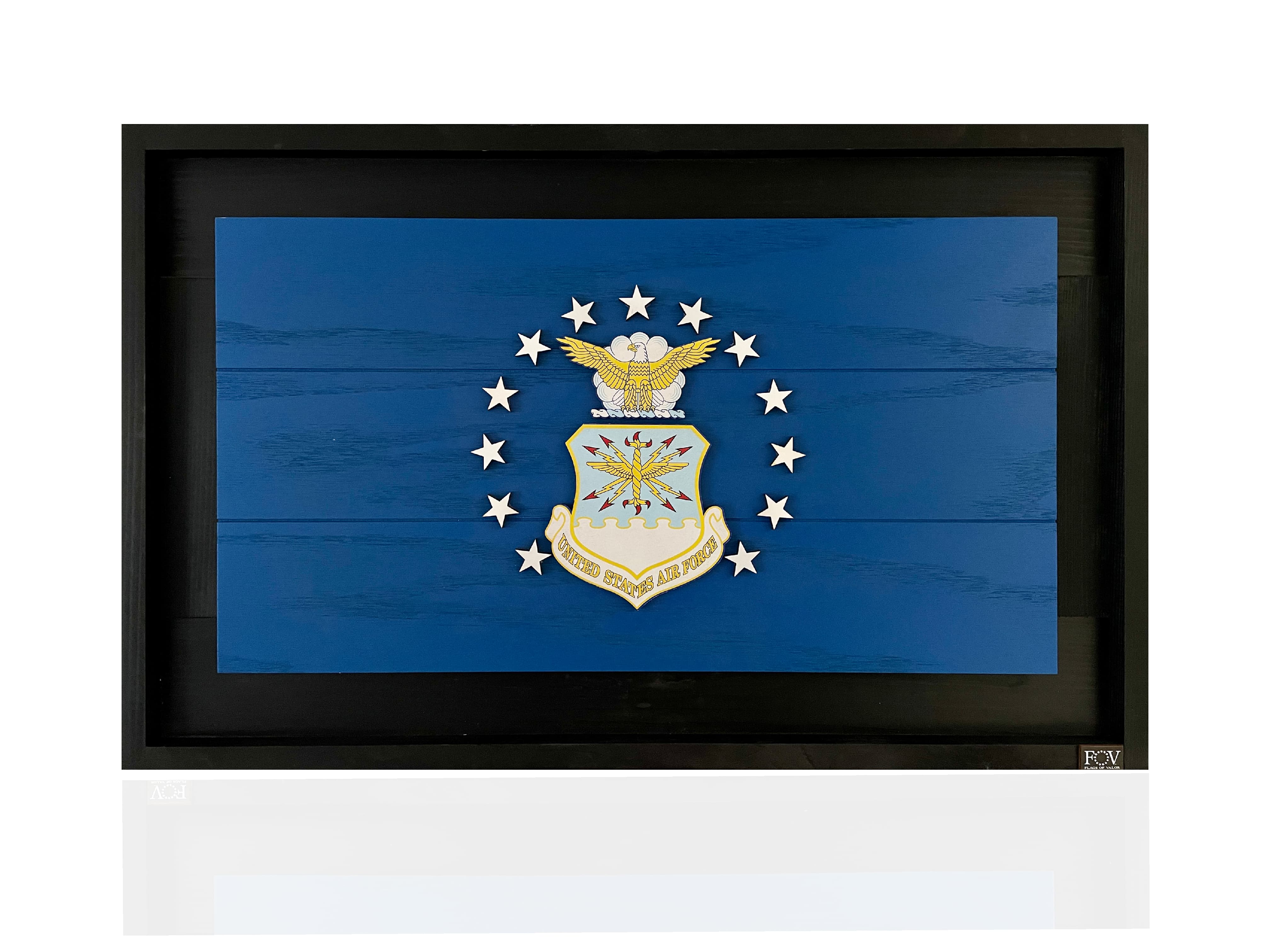 Air Force Wooden Flag
This product is made by military veterans from American grown and made materials
---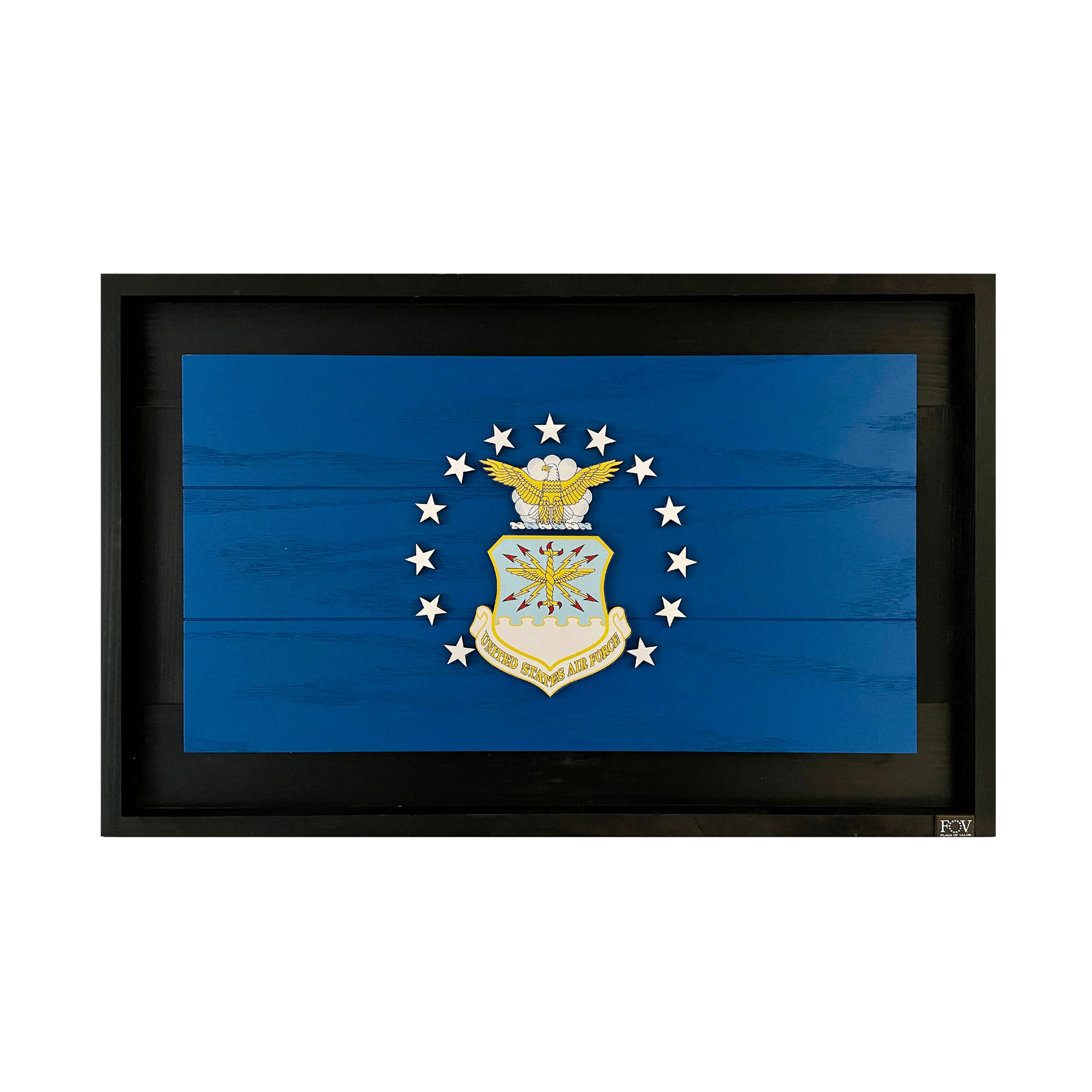 About the Air Force Service Flag
Perfect for the home or office, the Air Force Service Flag serves as a thoughtful reminder of military service to those who served in the Air Force and those who are proud of those who serve.
Ready to Hang
Yes, each flag comes with pre-mounted sawtooth hangers, making your flag ready to hang!
Customizable
Customization is not available for this product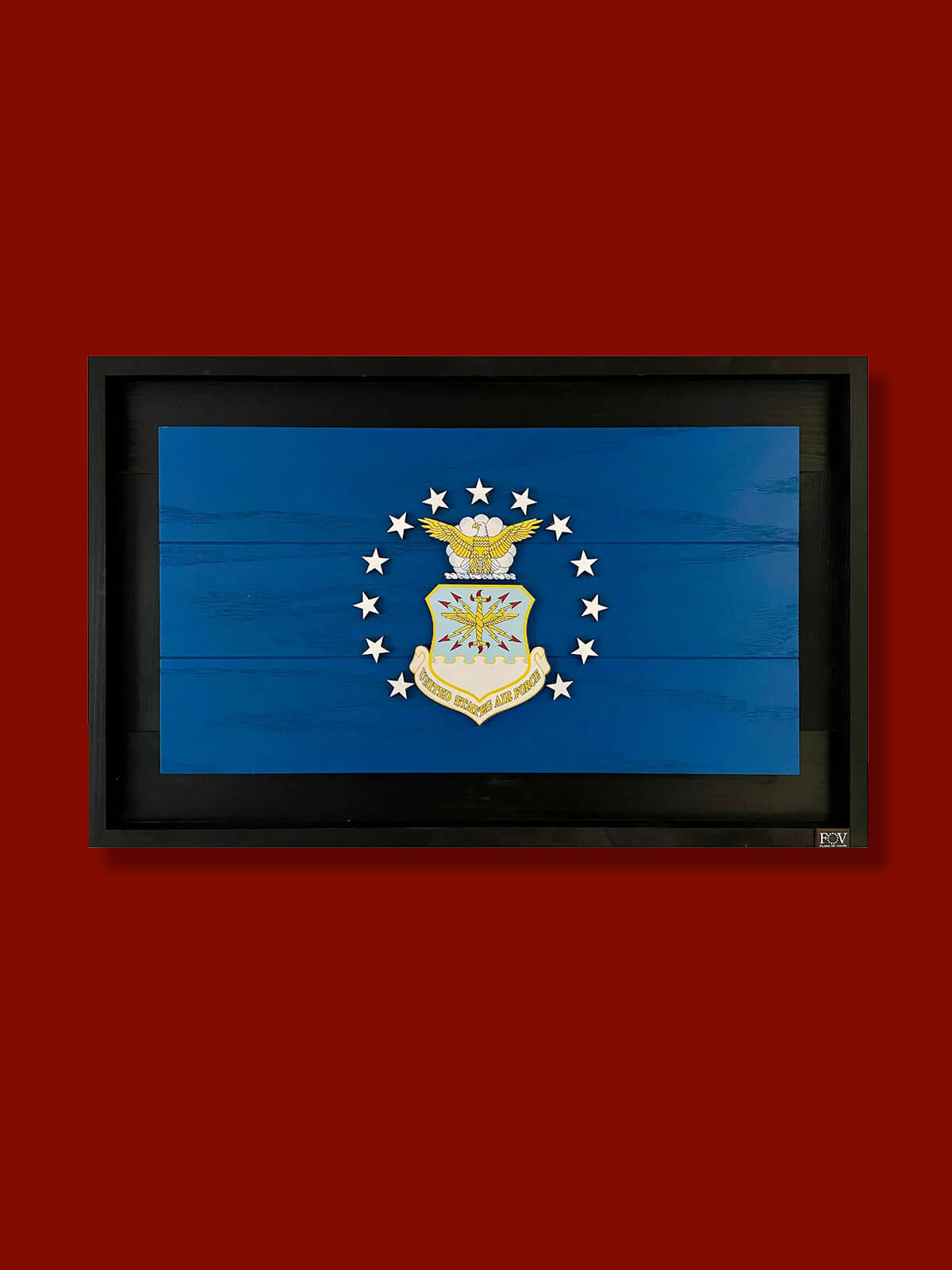 Raised Emblem
The service branch emblem is raised off the front of the flag, giving this piece distinct dimension and character
UV Printed
The service emblem is UV printed, resulting in a highly durable, vibrant and crisp application
Framed
Each service flag is framed, providing timeless appeal and dimension
Yes, all of our flags are handcrafted in Winchester, VA, by military veterans using American grown and made materials.
How long will it take to get my order?

It depends on where you are, but we process most orders within 24 hours. Shipping duration is dependent on your proximity to Winchester, VA, and the time of year.
Can I hang my flag outdoors?

No, we do not recommend that the flags be exposed to the elements.  We use a water based paint and lacquer that will wash away if consistently exposed to rain and snow.  
What hardware is provided to hang the flag?

Service flags come with pre-mounted sawtooth hangers, making your flag ready to hang!
Our customer support is available Monday to Friday.
Average answer time: 24h
This product is rated 4.9 of 5.0 stars.
It has received 16 reviews.
Looks Super
I lit up my USAF flag and it looks superI was surprised to see the shield and stars are raised, looks great.
Air Force Flag...great, but take another look.
First off, I love the mission of this company and the craftsmanship of each product (I've ordered three different flags so far). But this AF flag, while great, misses the "attention-to-detail" mark we're accustomed to from FOV (especially at this price point). The photo depicted online is a pristine flag with a rich, deep blue hue and impeccable stars around a vibrant Air Force crest. In a word, perfect. The flag I received could've used another look before it went in the box. For example, my flag deserved another coat of blue to fully cover the natural pine color (the grooves weren't quite reached all the way between the wooden boards), and the cutout of the Air Force crest left small chips that could've (should've) been corrected before shipping it out. And I didn't particularly care for the artificial "aging" that was creatively applied to the stars and crest (dismayed to see this since it's not what I asked for). It's the details that matter in high-quality products...and the primary reason I've come back to FOV a third time.
Wood Air Force flag
Excellent craftsmanship. Proudly displayed in my home. Honoring my two Sons serving in the Air Force. God Bless you Vets.
Beautiful Air Force Flag
My husband is an Air Force veteran and was absolutely blown away when he opened this flag for Christmas. The workmanship is outstanding. We already have an American Flag from Flags of Valor and this is a nice addition. You cannot go wrong when you purchase from this company!💜.
Thank you for your service
I love the bright colors. My Air Force husband now has dementia. This flag is a brilliant reminder for him of days past.