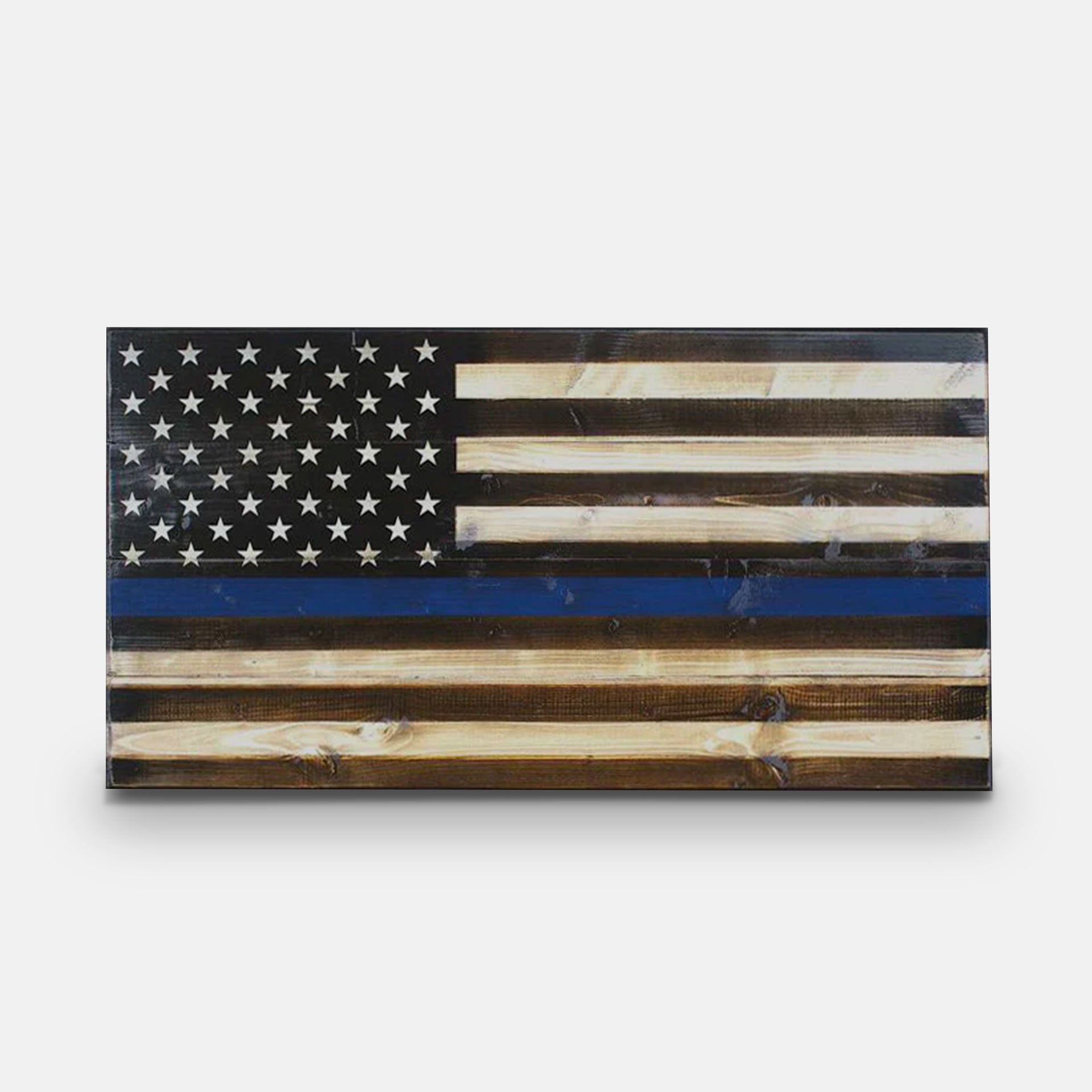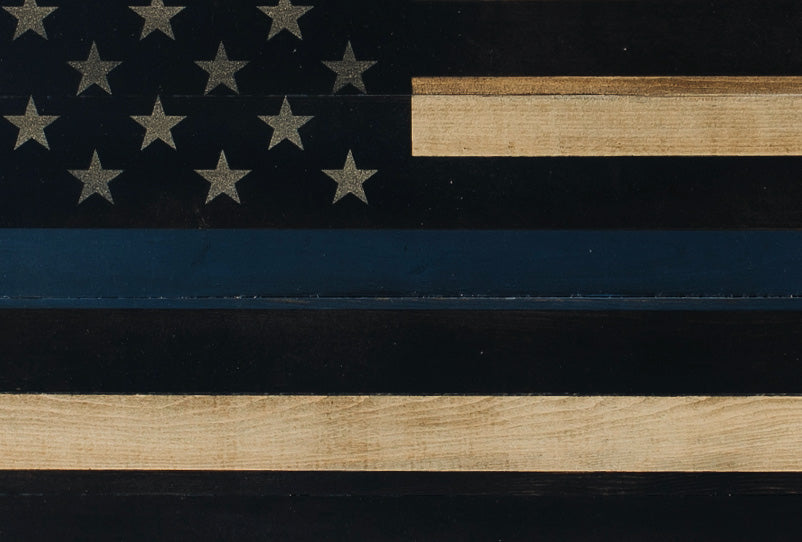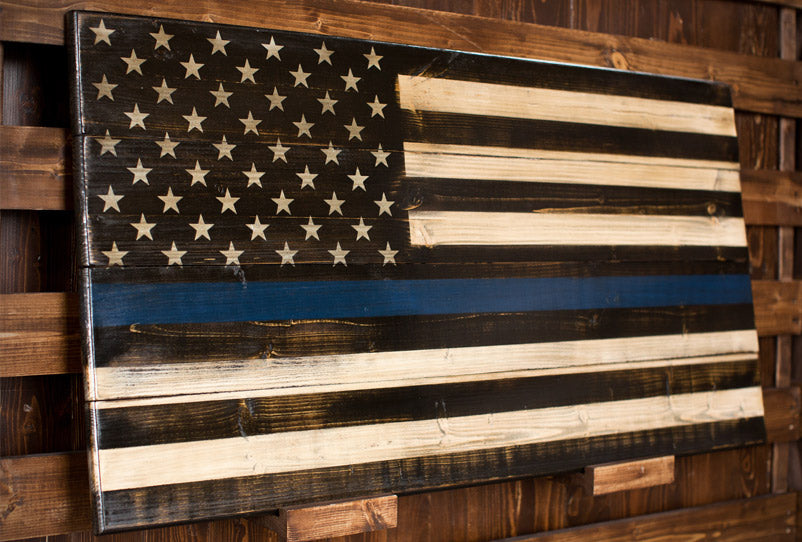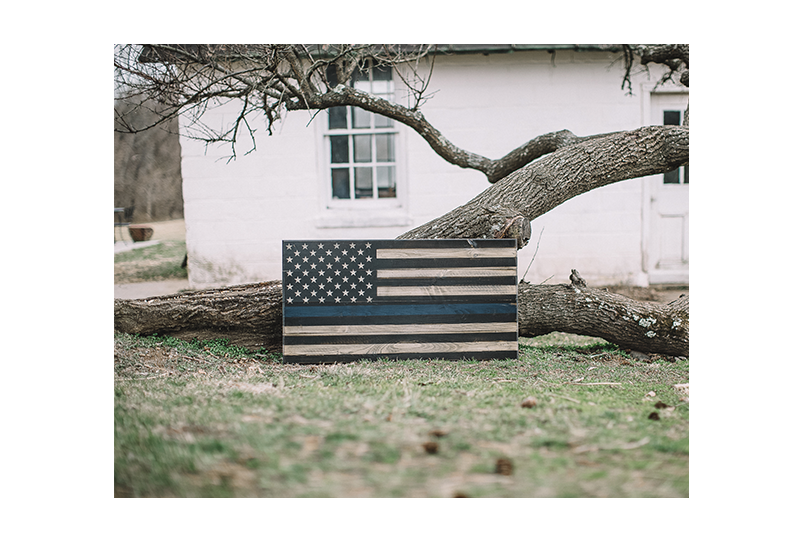 Thin Blue Line
This product is made by military veterans from American grown and made materials
---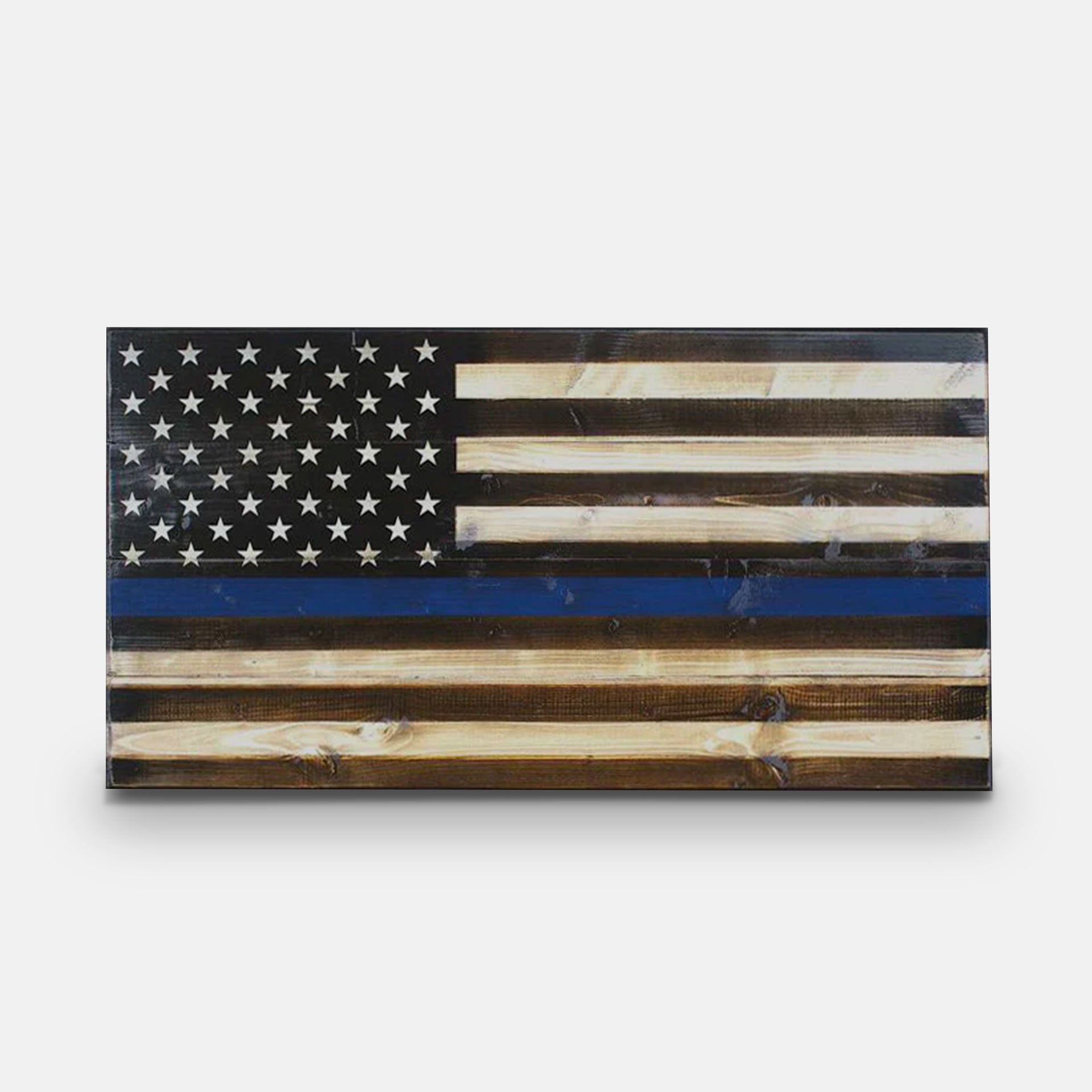 About the Thin Blue Line Flag
Dedicated to the brave men and women serve who honorably serve their communities, combining our nation's heritage with law enforcement's history of the "the long blue line" of service that preceded them
Dimensions
4 sizes available, see under product photo for exact dimensions
Ready to Hang
Yes, each flag comes with pre-mounted hardware, making your flag ready to hang!
Customizable
Yes, each flag can be customized with a personalized nameplate
Weight
From smallest to largest: 2.5 lbs, 5 lbs, 10 lbs, 20 lbs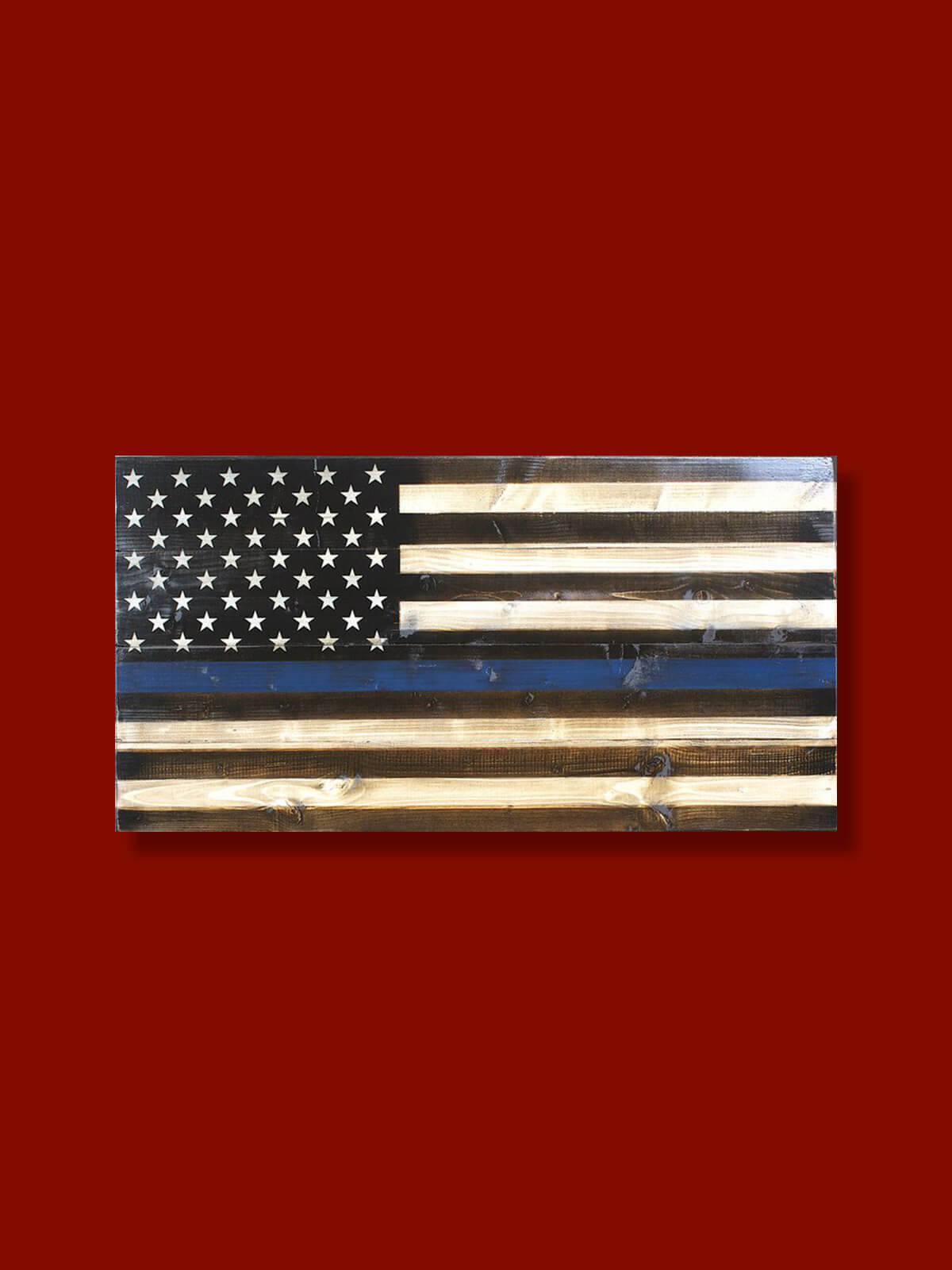 13 Stripes
13 stripes, alternating with subdued white and black
Customizable
Customizable with special engraving and framing options available.
The Thin Blue Line
Made to honor the police who honorably serve their communities
Yes, all of our flags are handcrafted in Winchester, VA, by military veterans using American grown and made materials.
How long will it take to get my order?

It depends on where you are, but we process most orders within 24 hours. Shipping duration is dependent on your proximity to Winchester, VA, and the time of year.
Can I hang my flag outdoors?

No, we do not recommend that the flags be exposed to the elements.  We use a water based paint and lacquer that will wash away if consistently exposed to rain and snow.  
What hardware is provided to hang the flag?

The following sizes come with sawtooth hangers pre-mounted: (xs) 9 5/8" H x 18"W; (s) 13" H x 24 1/2" W; (m) 19 1/2" H x 36" W

The following size comes with d-ring wire hardware pre-mounted: (l) 26" H x 48" W

Pease note, these sizes are for the unframed flag, however framed flags of the same size (s, m, l, etc.) receive the same hardware.
Our customer support is available Monday to Friday.
Average answer time: 24h
This product is rated 5.0 of 5.0 stars.
It has received 44 reviews.
This product is rated 5.0 of 5.0 stars.
It has received 44 reviews.
Always appreciated
Thanks again for a wonderful product. I really enjoy gifting hard working employees with your flags and the employees really appreciate receiving such a high quality gift. Thanks again.
Thin Blue Line Flag
Your flags are beautiful. However, I was a bit disappointed in my purchase of the Thin Blue Line Flag. The color of the blue line leans to a teal color blue not the deep blue always seen on police items. This was to be a gift for my son making Lieutenant but I'm having a hard time getting past the color blue. When I called customer service the girl did ask the shop if they could darken the color blue and they said no. On the website it shows the correct color blue!! I'm deciding about returning this product.
I do have an American flag from your company that I love!
Absolutely Beautiful Flag
I have been looking at your flags for quite awhile now and have been unable to pick just one to buy... I'm a Veteran and a First Responder... My wife ordered me a Thin Blue Line Flag (it arrived yesterday)... I was instantly super excited when I read the box, but I promised her I would wait till Christmas to open it (I think she wanted to see it as much as I did because she had me open it last night)... Guys, it is ABSOLUTELY BEAUTIFUL...!!! When I lifted the lid to the box, it put tears in my eyes, THANK YOU...!!!
Thank you not only for your service to our Nation, but thank you for your expert craftsmanship...!!! We are hanging it tonight when we decorate for Christmas and all who enter my home will see your work proudly displayed with Honor...!!!
Dad's Birthday Gift
Beautifully crafted thin blue line flag for my Dad's birthday. He absolutely loves it, hung it above their fireplace. Highly recommend these as gifts for those who've given so much of themselves for our country or any other patriot in your life.
Thin Blue Line Flag
This is a Father's day gift for my boyfriend and he's going to love it!! Looks great and the veteran's signature on the back brought tears to my eyes. I plan on getting the USMC flag for him soon too. So glad I found this online. Thank you! And thank you for your service!